Kevin Martin Wooden Boats & Canoes
Myths
---
I would like to dispel two of the most prevalent myths about lapstrake construction and about wooden boats in general.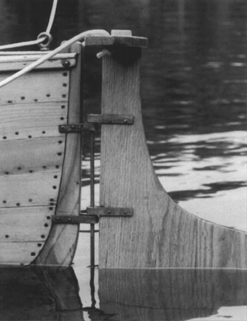 Myth #1: Most wooden boats leak.

Ha! Chances are that a well-built lapstrake boat will be launched with more water dripping off your paddle into the boat than water seeping in from below. Some of the older factory-built boats that I have restored have leaked due to the lack of care in fitting the planks and through the use of green lumber in construction. I have cartopped my canoes and boats for years without any leaks worth speaking of.

Myth #2: Wooden canoes and boats rot.

Well, I must admit that this is true, eventually, but as an environmentalist I would rather see wood deteriorate than have aluminum and plastic hulls defacing the earth's surface when their use has expired. If you take proper care of your wood canoe or boat by storing it properly and spend a few hours a year fixing it up a little when it needs attention, your boat should last as long as those century old canoes that I have restored in my shop.