About Kevin Martin Wooden Boats & Canoes
---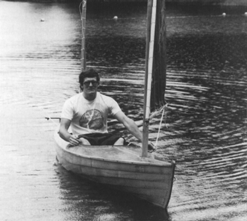 When the immigrants moved inland in New England and New York, they found a need for small boats and canoes to use on the waterways. The boats they built were constructed similar to the vessels they were familiar with in northern Europe. Wood was the best material, as it grew all around them and lapstrake construction was a proven method for durable lightweight boats. The designs were developed through years of use leaving the best models for fishing and traveling in this area.
These traditional craft are still a viable option in today's world. They are rugged, built with the double thickness of planking at the laps and closely spaced hardwood ribs. They can be built very light, about twenty pounds for a small solo canoe, which is important in today's mobile society. For pure beauty and head-turning ability there is still no better material than wood.
I still adhere strictly to the old ways of building because I feel they are best. Local lumber is used with the best quality and type carefully chosen for all parts involved - such as basswood for floorboards because it is less likely to split or cherry for gunwales and decks because it darkens to a rich warm color as it ages. With thirty years of experience building and restoring wood canoes and boats I believe I am one of the few qualified to build one for you. Some other builders will say they have years of experience but have only built or restored a few canoes or boats spread over a long time. At my shop we have restored hundreds of canoes and boats and we have built close to 100 new crafts. Although the quote from the nineteenth century, "The keel of the perfect canoe has yet to be laid" still holds true, we continue to strive to come as close as possible.