Kevin Martin Wooden Boats & Canoes
Courting Canoe
---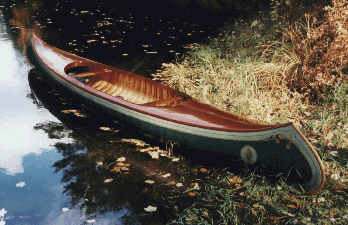 | | |
| --- | --- |
| Length: | 17' |
| Beam: | 30" |
| Depth, amidships: | 13" |
| Weight | 78 lbs |
These classic canoes are from the Charles River area around Boston, Massachusetts. In it's use during the height of canoeing's popularity on the Charles, the gent would paddle from the back thwart, while the lady would sit facing him on a cushion on the floor with a backrest and enjoy the ride. There was quite a competition for the best looking canoes to rent to take your girl off for the evening.
This model can be built with any style decking including short, 8-inch breast hooks, 28 to 36 inch quarter-decks, or even 48 inch half-decks (as shown). This canoe and the Torpedo model are built on molds made by Kingsbury in the 1940's. He originally worked for the Arnold & Robertson canoe companies located on the Charles. For those who want a 17' canoe set up as a regular tandem canoe with caned seats and more room, this is a very nice paddling canoe and shorter decks would allow regular paddling with a partner. Although most people like it in the courting style, I would not hesitate to recommend it for all around use.
This canoe is built traditionally with mahogany or birds-eye maple decks and trim. Other domestic lumber can be used if you prefer. These come with outside stems, 2-tone paint with gold striping and design, along with a name and logo. Real gold leaf can be used on request. Names can vary from the whimsical like "O-So-Ko-Z", to natural like "Fiddlehead" or "But-R-Nut,"or to the name of a loved one.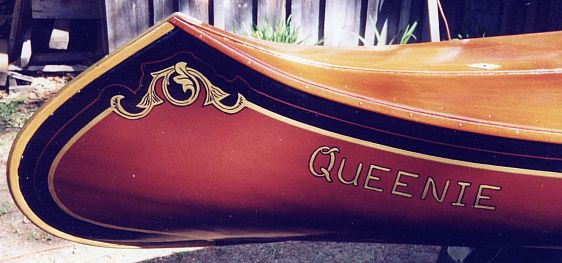 Colors suggested are Mahogany with Black trim, Dark Green with Light Green or Black trim, or Dark Blue with White or Black trim.
Rekindle the romance in your life with a courting canoe as a gift for that special someone who would enjoy some oh-so-cozy evening paddles.